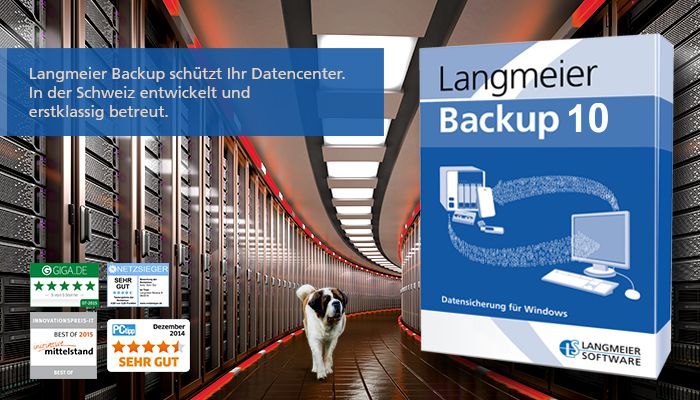 Langmeier Backup 10:


The complete backup for server and data center

For backup of vital company data, you don't need to look to Japan or America. With Langmeier Backup, you're relying on Swiss engineering with German-speaking support and hotline.

Your Benefits:
Backup of physical and virtual Windows servers
Disk, NAS, or Tape Backup
Flexible scheduler
VSS hot backup technology
Receive backup status via email and SMS
Integrated with RMM tools
Clear licensing
Good value for money

Buy Now

Try it now
Virtualization
Backup and restore of virtual machines.
Replication
Folders can be replicated to network drives.
Disk, NAS, or Tape Backup
Whether disk, NAS, or tape backup, Langmeier Backup Server allows flexible backup to various target media..
Broad tape device support
Supports all leading tape device manufacturers, including HP, Dell, Exabyte, Overland Data, IBM, Qualstar, Quantum, Sony, Spectra Logic, and Sun StorageTek.
VSS hot backup technology
Using VSS hot backup technology, Microsoft SQL Server, Microsoft Exchange Server, Active Directory repositories, Oracle, Access, and SAP databases, and Microsoft Sharepoint are backed up without interrupting work and while the system is running..
Open Architecture
Reliable backup and recovery across Local Area Network (LAN), Wide Area Network (WAN), and Storage Area Network (SAN) environments.
Continuous data protection
Finally eliminates backup windows and continuously backs up all changes to data on demand every minute..
Centralized monitoring
Thanks to integration with RMM tools such as AVG Managed Workplace or email logs, the backup administrator is always up-to-date on the status of backups to all workstations.
Langmeier Backup V-flex: the perfect protection of virtualized environments
Langmeier Backup V-flex provides the perfect protection for virtual server environments. Restore virtual machines, servers and hosts completely or to file level. The network bootable
recovery environment helps to quickly restore virtual machines in
the data center as well as remotely. data center as well as remotely. This allows Langmeier Backup V-flex to quickly restore
your servers in the event of a disaster. your servers back online quickly in the event of a
disaster. Langmeier Backup V-flex is the perfect
tool for protecting your Microsoft Hyper-V environment as well as VMWare environments under Windows.
Thanks to the flexible V-flex licensing model, you choose the right package for any size operation and you save yourself expensive and time-consuming licensing of individual virtual machines.
These are the benefits of Langmeier Backup V-flex:
Data backup for hosts and virtual machines
The comprehensive protection for your Microsoft virtualization environment
Disaster recovery: get your servers back online in no time
Data backup with Swiss reliability
Save data automatically
Protect all your files.